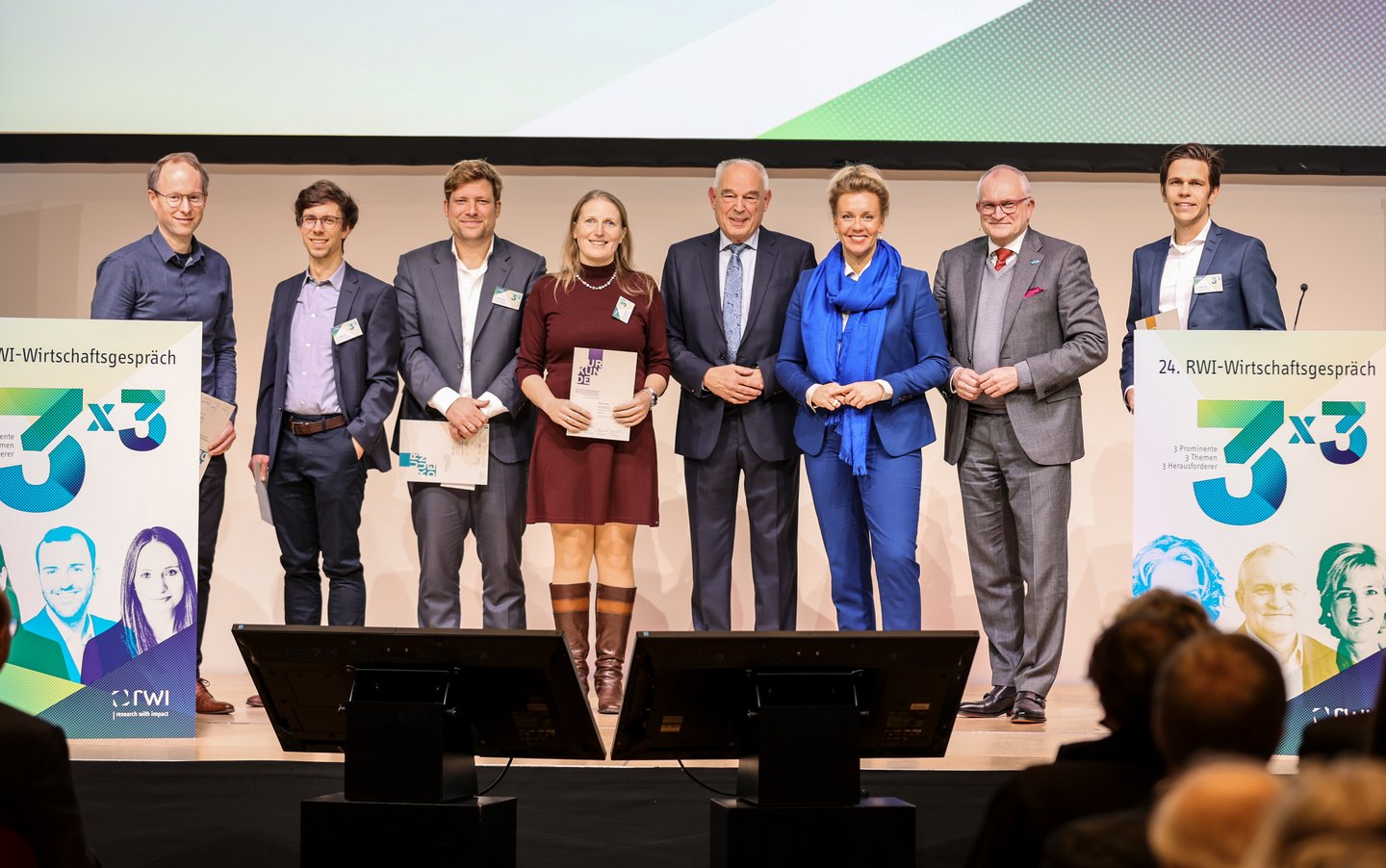 The RWI-Economic Discussion 2022 took place on November 29 2022, at 6pm at the RWE Pavillon within the Philharmonie Essen, with freindly support by the NRW.Bank.
Details and the program are summarized in the Flyer.
Since 1997, the "RWI Economic Discussion" has brought together representatives from business, science and politics each year to discuss current economic policy issues. The event is organized by the Society of Friends and Sponsors of RWI together with RWI. Since 2019, an innovative event concept is established with "3x3: 3 Celebrities, 3 Topics, 3 Challengers."
The sponsoring society also presents annual awards at the Wirtschaftsgespräch for outstanding academic achievements at RWI that have made a significant contribution to RWI in one of the three areas - research, promotion of young researchers, and economic policy advice - and have thus contributed to the institute's reputation.
RWI Wirtschaftsgespräch 3x3: 3 celebrities, 3 topics, 3 challengers
The RWI Business Talk 2019 took place on Thursday, November 14, 2019, at 6 p.m. in the RWE Pavillon of the Philharmonie Essen(see invitation flyer).
This year we tested an innovative event concept with "3x3: 3 celebrities, 3 topics, 3 challengers". In doing so, we brought the arguments on three current economic policy topics to the fore. Three prominent representatives from the worlds of science and business took on the questions and opinions circulating in the public debate - brought to a head by three representatives of the Association of Debating Clubs at Universities. For the professional debaters, their own position did not matter; the only thing that counted was good argumentation and debate with the arguments of the opposing side. The student debaters thus brought their expertise in the art of argumentation to the podium, and the prominent guests their specialist knowledge of the subject matter of the debate. We would like to thank our partners and sponsors Sparkasse Essen and WAZ for supporting the event!
During the event, the "Prizes for Outstanding Scientific Work at RWI" were also awarded by the Society of Friends and Sponsors of RWI. A list of the award winners can be found at friends and sponsors.
Date
This year's "RWI Economic Discussion" will take place on November 11, 2021. Details will be published on this page at a later date.
xy

RWI Wirtschaftsgespräch 2019 (Fotos: RWI/Sven Lorenz) 2/11 (Kopie 1)

RWI Wirtschaftsgespräch 2019 (Fotos: RWI/Sven Lorenz) 3/11 (Kopie 1)

RWI Wirtschaftsgespräch 2019 (Fotos: RWI/Sven Lorenz) 4/11 (Kopie 1)

RWI Wirtschaftsgespräch 2019 (Fotos: RWI/Sven Lorenz) 5/11 (Kopie 1)

RWI Wirtschaftsgespräch 2019 (Fotos: RWI/Sven Lorenz) 6/11 (Kopie 1)

RWI Wirtschaftsgespräch 2019 (Fotos: RWI/Sven Lorenz) 7/11 (Kopie 1)

RWI Wirtschaftsgespräch 2019 (Fotos: RWI/Sven Lorenz) 8/11 (Kopie 1)

RWI Wirtschaftsgespräch 2019 (Fotos: RWI/Sven Lorenz) 9/11 (Kopie 1)

RWI Wirtschaftsgespräch 2019 (Fotos: RWI/Sven Lorenz) 10/11 (Kopie 1)

RWI Wirtschaftsgespräch 2019 (Fotos: RWI/Sven Lorenz) 11/11 (Kopie 1)
Previous
Next